Dance Magazine
(February, 2009)

Beijing's Modern Movement
by Emily Macel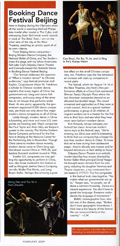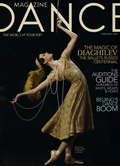 The bustling city of Beijing is full of movement. Arms of calligraphers sweep delicate brushstrokes on the sun-drenched slate at the Temple of Heaven. Legs of cyclists pump their pedals as they speed down busy streets returning from the market with heaps of green onions. Even the red and gold lanterns that appear everywhere – from storefronts to archways on the street – seem to move with a syncopated sway.
Beijing's modern dance scene is adding to the city's rhythm. In a country known for its history, modern is not the first word that springs to mind. And yet modern dance here is alive – young, fresh, and refreshing. In less than three decades, China has broken ground with contemporary works that spring from traditional Chinese dance forms with new life.
For example, during the booking DANCE FESTIVAL Beijing (see sidebar, page 38) Fei Bo's Kunqu Vision revealed the current appeal of modern dance in Beijing. A single spotlight pours down on a classically trained ballerina in a sculpted white dress. Her three male partners guide her through the space by braiding her long black hair, a familiar element of traditional Chinese ethnic dance. These performers represent China's past, present, and future: Cao Shuci, a prima ballerina from the National Ballet of China; Yi Jie, a member of the China Er Pao Army Song and Dance Troupe; Li Xing, who performs with the People's Liberation Army; and Fei Bo, who graduated from the Beijing Dance Academy for choreography, has studied traditional dance and now works with the National Ballet of China. What started as a gentle, sweet pas de quatre erupts, and the ballerina furiously dances in a tight space while the men sway back and forth under her spell. But a greater spell spreads across the stage when these four contemporary dancers are confronted with China's long, elaborate history – a performer dressed in traditional Kunqu opera regalia slowly walks across the back of the stage, nodding to acknowledge the future of dance in China.
Fei (surnames come first in China) says about this work, "We draw on elements of Kunqu opera to discover a new kind of modern expression from an ancient culture."
….
Dancer Wang Hao, who performs with Tao Studio and BMDC, says of Tao Ye's piece, Double, which she performed during the Booking Festival, "The clothing has a very obvious traditional Chinese feel to it, but the movements themselves weren't Chinese. The influence of Chinese dance on modern dance is from the environment that we've grown up in. Like a seed, with the soil around us having all these traditional elements, we're absorbing from the environment. These elements will influence us. It's a natural fusion."
So where does modern dance in China go from here? Wang Hao is cautious. " I'm worried that modern dance will enter into this cage of limiting environment where people will say, 'Your arms have to be here.' But the purpose of modern dance is to say No." However, she feels that as long as there is room to grow, "This interesting interaction between modern dance and China will create something new. Something great will come out of that set of contradictions.
Emily Macel, an associate editor at Dance Magazine, was a guest of booking DANCE FESTIVAL Beijing.
Booking Dance Festival Beijing
Here in Beijing during the Olympics when all the world is watching Michael Phelps take medal after medal at The Cube, and witnessing Usain Bolt break world records in track at The Birds' Nest, I am on the other side of the city at the Nine Theatres, watching an artistic sport all of its own – dance.
Three Beijing dance companies – Beijing Modern Dance Company, the National Ballet of China, and Tao Studio – share the stage with my fellow Americans: Salt Lake City's Odyssey Dance Theatre and Colorado-based Kim Robards Dance in booking DANCE FESTIVAL Beijing.
"Our festival addresses the question of 'What is modern dance?' to Chinese audiences," says festival producer Jodi Kaplan. Co-producer Alison M. Friedman, a scholar in Chinese modern dance, explains that every region of China has government-run song and dance folk companies, and every wing of the army has an art troupe that performs under them. At one point, apparently, the government supported 8,500 dance companies, yet there are only about five major modern dance companies in all of China.
The festival, which ran August 14-16 at the Nine Theatres, also held a free performance offsite at the Coca Cola sponsored Shimao Tianjie Olympic Plaza where the two American companies danced on an elevated two-leveled stage. The crowd screamed and applauded as if they were at a rock concert. And at a special matinee performance, a group of 20 children of migrant workers sat in a theatre for the first time in their lives and saw what they have never seen before – modern dance.
Kim Robards, whose company performed her classic American modern dance style at the festival, says, "We're entering out 22nd year and it's interesting to think that our company has a longer history than modern dance in China. To know that we're here during their adolescent stage – they're already very mature and far beyond Americans in their ability to focus."
Odyssey Dance Theatre is an eclectic modern/jazz/hip hop troupe directed by former Ballet West principal Derryl Yeager. He brought seven dancers from his company, including his daughter Veronica and Thayne Jasperson, a top contestant from last season's SYTYCD. The five companies in the festival took class together. "No matter what our governments are up to," Yaeger says, "as people, we all share a common humanity. Dance is a visceral experience. You don't have to speak the language. Everyone understands the language of movement."
BMDC choreographer Gao, who led one of the classes, says, "Bodies don't have geographic boundaries. I think that is the beauty of this festival. We can transcend limits of the country." – E.M.
OPEN PRESS PDF

< BACK TO BEIJING FESTIVAL PRESS